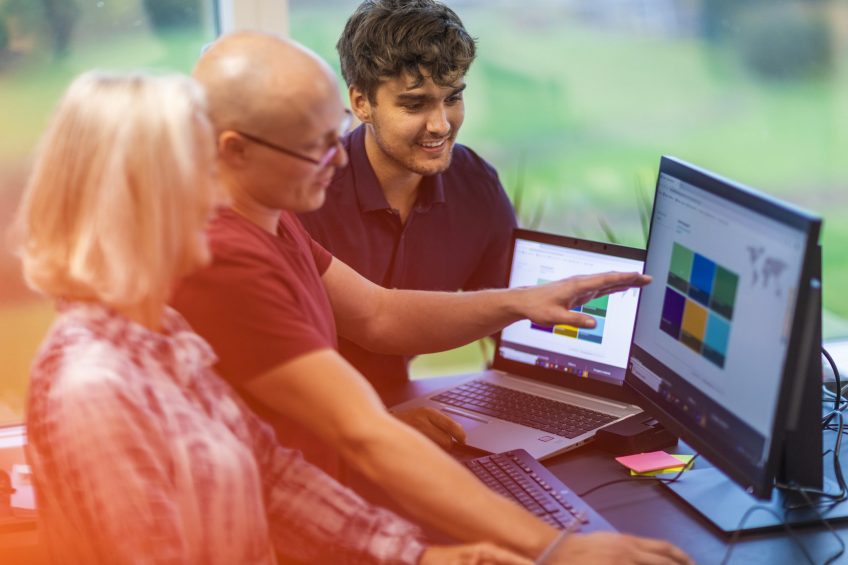 15 sep

Kamstrup: Internship in Virtuel Reality Development


Are you passionate about virtual & augmented reality? Do you have the creative mindset and technical knowledge needed to design the factories of the future? Are you ready for an exciting and rewarding internship in a growing organization?


Become a part of an innovative team

We are a dynamic team consisting of 10 employees with a broad spectrum of competences. We are engineers, computer scientists, and data scientists. Our primary task is to support the production with optimization, including analyses of processes and performance monitoring. You will work in an innovative team with focus on implementing and using new technologies, such as IoT, Big Data, Digital Twin, AR/VR, process mining and machine learning.

An internship with a focus on 3D design

During your internship, you will have direct reference to our Head of Process, and you will be assigned a mentor who will introduce you to your tasks and provide continuous sparring. In the position, you will be involved in designing new factories in VR/AR together with our LEAN group, where you will have a big responsibility and space to develop your skills during the task. Your focus will also be on creating examples of future interaction- and production concepts with simulation of factories before and after construction. You will become a part of a team consisting of 2 students in total, and professional sparring from external consultants will also be available.

We expect you to be familiarly with the following technologies and procedures:
C#
Unity
Blender
Oculus Quest 2
Holo Lens 2
Iterative design – customer feedback, design, implementation, code review and monitoring
Personality matters
We are looking for an independent and solution-oriented student who takes pride in quality. You are studying a university degree within game development, Computer Science, Software Development, Computer Technology, or similar, from which you have built a solid theoretical foundation of virtual & augmented reality, and you wish to apply your knowledge in practice.
As a person, you are flexible, structured, and you enjoy working closely together with colleagues across the factories. Furthermore, you are able to navigate new challenges and issues. The most important thing is that you are driven by the desire to design the factories of the future. We therefore also value if you have experience with game development, e.g. from your studies, work, or similar.
We are an international organization, and it is a requirement that you are fluent in written and spoken English.
We offer more than an internship
As an intern at Kamstrup, you will be on equal footing with the rest of the team. You can expect to be surrounded by skilled colleagues who will support you throughout your internship. We offer a unique internship where you will have the opportunity to make your own mark on the factories of the future. We have a good working environment where freedom and responsibility go hand in hand, and where we focus on continually developing our competences through courses and sparring.
At Kamstrup, we focus greatly on the social relations between our interns across the organization and if you are ready, we offer you an exciting spring with great challenges and teamwork. In 2019, we were also elected by Aarhus Municipality and the international student house, Studenterhus Aarhus to be the best internship company in eastern Jutland on the basis of our work with interns.
The internship is paid, if your place of study allows it. In addition, Kamstrup pays for public transport to and from work and offers a wealth of benefits at our headquarters, counting a canteen scheme, fruit scheme, fitness facilities, in-house dental clinic, hairdresser and a free health clinic.
Do you want to be a part of Kamstrup?
Send us your application by using this link. The applications are reviewed on a continuous basis, but you can expect a response within six weeks. Any details about the internship will be individually agreed upon. However, the internship is expected to run from the beginning of February 2022 until the end of June 2022.
In case of questions regarding the position, please contact Head of Process, Kasper Bundgaard Petersen, by tel.: +45 89 93 10 00.
About Kamstrup
Kamstrup develops and manufactures innovative solutions for measuring energy and water consumption. Kamstrup is the world's leading manufacturer of advanced and innovative measuring equipment for the district heating industry and is one of the leading European suppliers of smart meters and other equipment for the electricity sector. Kamstrup has over 1,500 employees in more than 20 countries with headquarters in Stilling located between Aarhus and Skanderborg. Kamstrup has a healthy economy, high growth rates and focuses strongly on the development of technology and staff. You can read more about Kamstrup on our website and see our annual report here. You can also follow Kamstrup on LinkedIn and Facebook to be updated on the latest news and vacant positions.