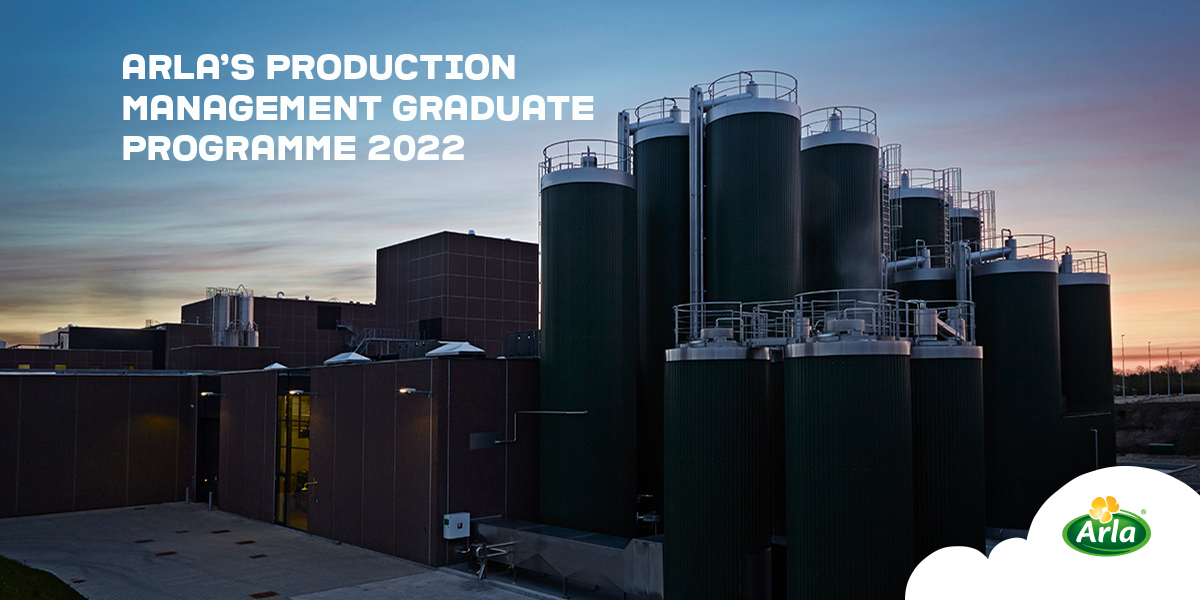 14 dec

Arla Foods: Production Management Graduate Programme

Production Management Graduate Programme – kick-start your leadership career with Arla Foods

Looking for an international career in leadership at our state-of-the-art production sites, producing famous dairy brands like Lurpak and Castello? And are you ready to participate in business-critical projects from day one?

This is your chance to put your leadership potential and theoretical production knowledge to the test as part of our 2-year intensive production management graduate programme (PMGP)! As current PMGP graduate Mette Noll Nielsen, says:

"The PMGP has without a doubt been the best possible start of my career, having always known that I wanted to work with people and leadership within food production. Traditionally you need to build many years of experience before taking on management roles, but given the intensity of the programme and the steep learning curve, I have developed my leadership skills and taken on a role as team leader already on my third rotation."

– Mette Noll Nielsen, Production Management Graduate and Team Leader on her 3rd rotation at Taulov Dairy in Denmark.

It's time to define the future of dairy

At Arla Foods, we strive to push each other forward to meet the growing global demand for dairy and to make the industry sustainable with respect to both people and the environment. To do so, we need talented graduates who want to take part in realising our ambitious Future26 strategy directly at our production sites.

A 2-year leadership programme at Arla's dairy sites

You can look forward to a professional, tailor-made programme that will introduce you to the wide range of the challenges that we face in a high-volume, fast-paced production environment. An environment where our production leaders need to make quick decisions in response to often unexpected and complex situations.


"The first thing that shocked me on site was the scale at which the site operates and the impressive automated guided vehicles carting the milk around. My appreciation of how a bottle of milk arrives at a supermarket has grown, and I am excited about making an impact within the supply chain."

– Sam Vickers, Production Management Graduate, on his 1st rotation at the Aylesbury Dairy in the UK.


The programme will take you through 3 different rotations at 2 of our European dairy sites – either in Denmark, Sweden, UK, Germany, Finland or the Netherlands. We will assign you to the local sites where we see the best fit for your development opportunities.

Accelerate your growth with Arla

No matter your location, you will get to work on exciting projects – for instance related to lean optimisations, sustainable production and team management. You will join assigned leadership training camps and receive coaching and mentoring from senior stakeholders to ensure your professional growth. See a visual explanation of the programme structure here.

"I have appreciated the possibility to learn in depth about production and culture at the different sites. We have long days with challenges that you at first don't know how to solve, but when you succeed, it gives you the feeling of satisfaction! The support and mentoring we get from senior managers is also helpful, because they learn you how to think as a manager!"

– Cleo Kortenhorst, Production Management Graduate and Team Leader, on her 3rd rotation at Pronsfeld Dairy in Germany.

You can meet our current graduates and read about their experiences right here on our blog.

Are you our next production management graduate?

By September 2022, you will have graduated with either a bachelor's or master's degree, preferably within dairy, food science, engineering or a production-related subject.

We are looking for people who enjoy challenging the status quo, hunting the root cause and providing new solutions with passion, energy and empathy. Fast learners with strong analytical skills who can perform in a fast-paced environment. In addition, it is essential that you:
Have the drive to deliver results and demonstrate the Arla Leadership Behaviours
Have an open and curious mindset, enabling you to gain an understanding of Arla Foods as a whole
Have complemented your studies with relevant work experience or perhaps even have 1-2 years of work experience after graduation
Are fluent in English – furthermore, it is an advantage if you speak Danish, German, Swedish, Dutch or Finnish
Are internationally mobile and ready to take up an international career in production management within Arla Foods.

Ready to kick-start your career?
All you have to do is to send us your CV and a motivational letter, telling us why you have a future within production management at Arla Foods.
The application period for the PMG Programme runs from 9 December 2021 to 31 January 2022.
For additional information, please read more about the PMGP on our website. Here, you can learn more about the rotations, the leadership training camps, the recruitment process and much more.
Free webinars!
To learn more about the programme, please join one of our free webinars on 10th of january 15:00-16:00 or 19th of January 12:00-13.00 CET. Meet the PMGP team and both current and former graduates to learn more about the programme. Ask us anything!
To register, please fill out this FORM, then we will share an invitation link. By submitting your name and email address, you are agreeing with the terms and conditions stated in Arla Foods' Privacy Policy, and we will use your information to invite you for our online webinar regarding Arla's Production Management Graduate Programme.