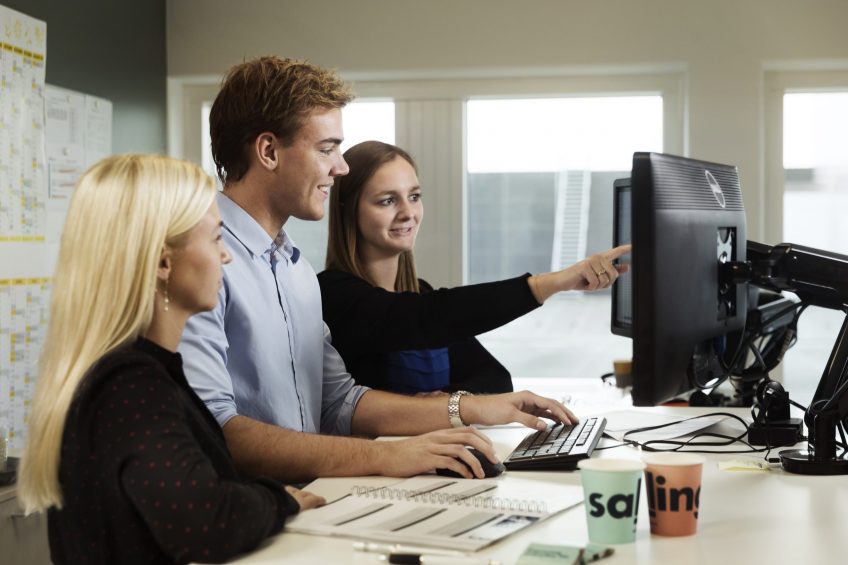 18 Feb

Salling Group: Intern for Dairy, Bread and Bakery

Are you looking for an exciting and challenging internship for your next term? Can you see yourself as part of the buying team with Denmark's largest retailer? Would you like the opportunity to place yourself in the pipeline for upcoming vacancies after your internship?

If this sounds like the right opportunity for you, Salling Group is now looking for talented interns for, among other things, Purchasing and Marketing 

We thrive to hire our interns into the company in either full time positions or as student assistants after the internship is finalized.

You will be part of 

We have four teams each counting 3-5 colleagues working in a dynamic and swiftly changing environment build around the nature of our products with short shelf life. We thrive with the competitiveness, and work hard each day to secure a prime selection at the very best prices, as well as doing our utmost to create the very best conditions for our colleagues in the stores offering the products to our customers. And all this is done in a positive, humorous tone not least due to our great sense of collaboration.

During the internship you will be working on projects and tasks, such as
Assortment development in both physical and online stores
Competitor monitoring
Follow-up on sales
Customer analyses
Packaging development
You will be contributing actively in the department reaching its goals. 
How will you benefit?
As an intern, you will get behind the scenes with us, right between customers, department stores and suppliers. You will be part of a strong team working at a high pace in a dynamic everyday life – each day is different, and every day offers new challenges.
Through the internship, you will gain insight into the complexity of the tasks to be solved in a professional retail organization, as well as a unique opportunity to build a strong, professional network to benefit your future career.
If you thrive in a high-paced environment based on teamwork, a positive ambience, and personal responsibilities, and you wish to be part of the leading dairy, bread and bakery buying department in Danish retail, you should be our next intern.
We will help you develop into an important player on our team with plenty opportunity of starting your career in Salling Group where numerous new doors will open to you, in step with your personal development.
You are
Looking for an internship for the fall term of 2021 (Duration 5-6 months, start-up Aug./Sep.)
Undergoing education in either the university, the business academy, the vocational college or similar.
Strong in writing and speaking English and Danish
A decent generalist when it comes to IT tools, enabling you to effortlessly get acquainted with new systems
Strong in Excel
A natural team player thriving in a fast-paced and competitive environment
Structured in your approach to the task at hand
Questions?
If you have questions about the internship, you are welcome to contact Senior category manager Jonas Thuun Harbo +45 40 27 08 72 for further information.
Are you the perfect match?
Send us your resume and cover letter as soon as possible and no later than 15th March 2021. We will be processing applications upon reception and filling the vacancies when the right matches have been found.
Salling Group is Denmark's largest retailer with more than 1.400 stores in three countries. In Salling Group we are driven to improve the everyday of our customers by focusing on providing the best products at the best prices in our formats. An internship with Salling Group is an invaluable opportunity to test your theoretical foundation in solving practical tasks where your choices have immense impact all through the organization.